What is a water wave wig & how to maintain it properly?
   Water wave human hair wigs are a relatively common item in the current hair market, and the first choice of many women around the world when buying wigs. What's behind the popularity of wavy wigs? Discover all about water wigs with alteryou hair!
What do you know about water wave wig?
   Wigs are one of the shortest ways to give yourself a new look. Wigs currently come in a variety of texture designs, offering consumers a complete selection of new hairstyles. For example, you can easily buy a straight hair wig, a water wave wig, a deep wave wig, a loose roll wig, or a deep roll wig.
Water wave lace wig refers to a wig shaped with the texture of water waves. This texture is one of the hottest trends among many women, especially black women. Because it was shaped like a water wave, people started calling it a water wave wig.
   Wigs allow you to transform a new look and have a whole new experience very easily and quickly. In order to make customers have a better shopping experience, wig designers have designed a lot of textured shapes. For example:... , etc.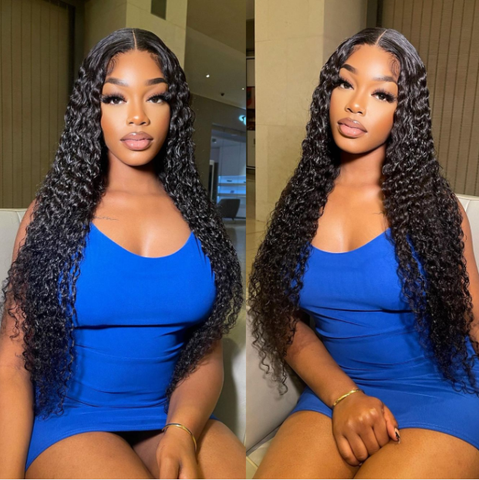 Why choose water wave wig?
1. It looks very natural
  Our wig is made from human hair collected from donors, so it looks the same as your own hair. Soft touch, shiny sheen, real hair can be dyed and ironed. You can use our products with confidence!
2.Easy to maintain and style
   The wave-front lace wig is sure to go beyond your expectations, and the hair stylist has taken into account the normal growth rules and the wearer's usage habits when designing the wig to be layered and tail-length. The raw material used is human hair, so the light, silky and glossy features of the product are retained. Wigs will not tie or fall off when worn in a normal environment. The wearer can carry out proper maintenance on the product, which can extend the service life and make it more comfortable to use. Of course, as a human hair wig can be dyed, permed, straightened shape, very easy to change the styling. This will save you some time in makeup and styling, which you can use to enjoy life and more.
3.Natural and nice hair ends
   Human hair made of water wig is very thick, soft, luxurious. It will give fuller roots and thinner ends, which will of course give you a more natural or realistic look. If you prefer a neat hair end, you can contact customer service to customize the product. A neat end will make the whole head look very full, like popcorn.
4.Best longevity
   The reason why human hair wigs are more popular is that they last longer and are more cost-effective. Compared with other materials on the market wig, human hair can be shaped at will characteristics, is its own biggest advantage. With professional care, the physical effects of heating, dyeing and chemicals can be slightly reduced. After care to extend the use of time, the overall calculation is more suitable for use than those cheap Synthetic wig sets.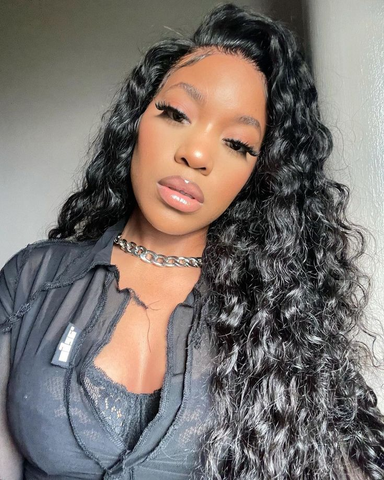 How to maintain water wave wig?
1.Use a wide-tooth comb
  Curly hair style after high temperature shape, curl can be maintained for a long time. But use the right brush when brushing your hair. Too dense a comb can damage the curl and make the curls straight. So to protect the curls and keep them longer, we use a wide-toothed comb.
  Little by little, comb from the bottom to the top of the head because of dry knots, and then comb from the top of the head to the tail.
You can also gently comb your wavy wig with your fingers, from end to top.
2.Wash your hair
  Don't forget to keep your hair clean. As you might know, the hair is easy to tangle when it is dirty and sweat builds up. Wash your wig in cool or lukewarm water. Put the hair into the water from ends to the top. If possible, wash the hair with fingers, don't rub or twist hair.
3.Hang the hair up to dry
   The wig is still wet when do not comb, easy to destroy the surface of the hair scales, easy to let the hair dry lose luster. Hang your hair in a well-ventilated area away from light and wait for it to dry. You can use a wig holder to hang your wig and let it air dry.
4.Avoid using heat styling on your hair
   It would be best if you refuse to use some heat styling methods such as straightening or curling. If you have to, use a heat protecting spray and a medium to low temperature.
---