613 Hair : One That Ordinary People Can Pull Off
Have you seen many celebrities wear this hair color? Do you think it looks good, but are too afraid to try it? Indeed, many people's first impression when they see 613 hair color is that it is definitely not their cup of tea. Now, I can tell you that this hair color works for most people, and if you're brave enough, you can definitely try it. It might surprise you and you might love it.
What color is 613?
613 is a light blonde hair color that works on most skin regardless of warm or cold tones. It doesn't matter if you have short or long hair, straight or curly hair. Different hairstyles can bring different effects. The 613 can also be mixed with black, brown, pumpkin and other shades, mainly used for highlight, to create a new and stylish feel.
Are you fit for 613?
What kind of person are you in life? Confident? Outgoing? If you answered no, then you probably don't fit the color well. Although this color does not pick on the skin, it is a relatively bright color, which is easy to give people a feeling of brightness, so it is easy to be noticed in the crowd. If you are not confident or outgoing, you may not be comfortable with this feeling and feel uncomfortable. If you are confident or outgoing, then you can definitely try this color, I believe you will love it.
613 Color Hair Inspiration
613 Hair is a bit difficult to handle, most people have difficulty in choosing this color, because they don't know how to match the color, or which hairstyle suits them better.The following are some sources of inspiration, just for reference.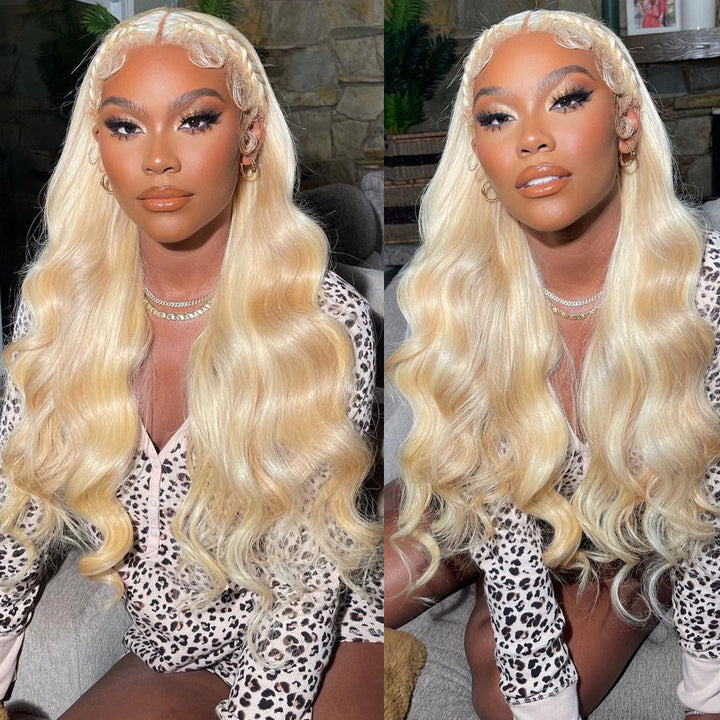 As you can see from the picture, this color does not really pick up skin tone and makes the whole person look more confident. The body itself has a sense of temperament, coupled with the embellishment of delicate baby hair, and the cute side braided hair, is there no sense of incompatibility, and there is a kind of unspeakable beauty. 613 is a fantastic color and worth a try!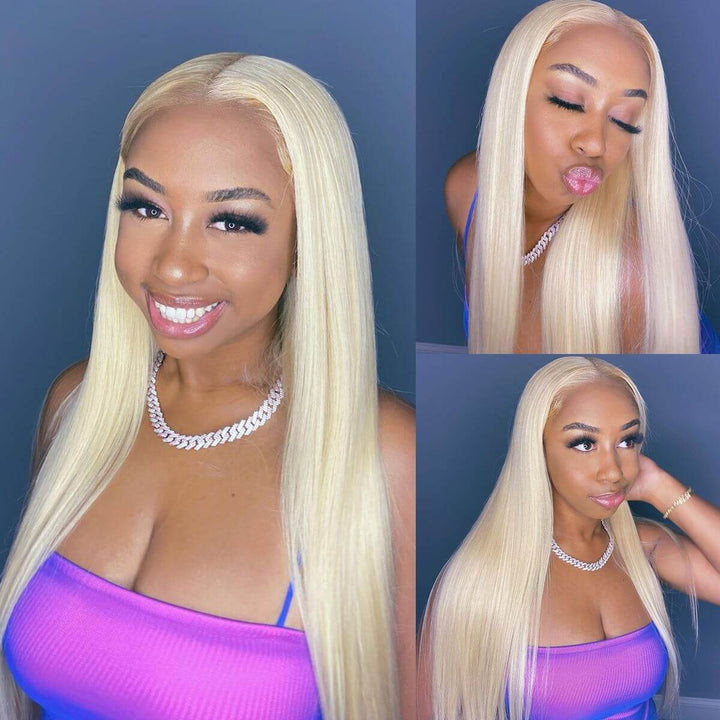 If curly hair isn't your thing, try this straight style. Everyone has a different aesthetic, like things naturally different. Straight hair looks softer and is suitable for quieter girls. If you want to add a hint of rebellion to quiet, go with the color 613. Absolutely. You'll find a different version of yourself.
3.613 Blonde Short Straight Bob
If you don't like the long hair on top, is the short, straight hair that you like? The side part of the 613 color hair is short and straight, giving people a cold and cool feeling. If you like short hair and a cold personality, then you can choose this color this hairstyle, and then an obvious eyeliner, makeup is actually not too strong, so you can more prominent your image, the quality of the whole popularity of more than a little.
4.Skunk Stripe P4/27/613 Bone Straight Highlight Colored Hair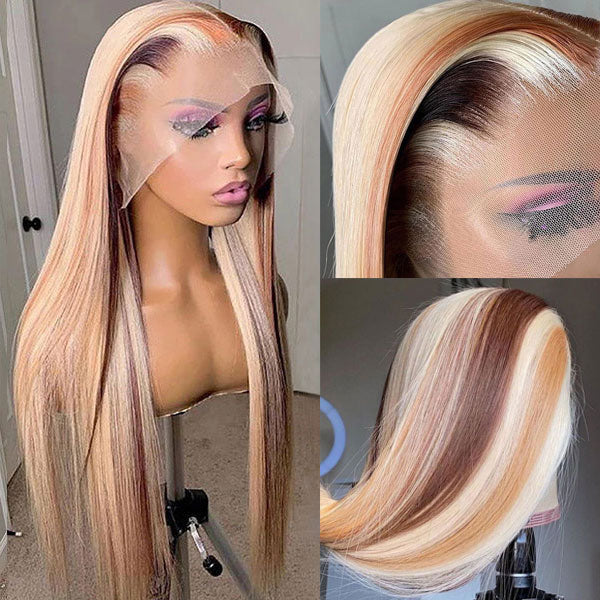 If you have enough personality to stand out in a crowd, try this Skunk Stripe style. It is composed of P4、27、613 three colors, which are very amazing together, without any sense of mismatching. But it's probably better for people who have a strong personality, because it's really individual enough that the average person can't handle it very well.
5.Long Brown with Blonde Highlights P4/613 Body Wave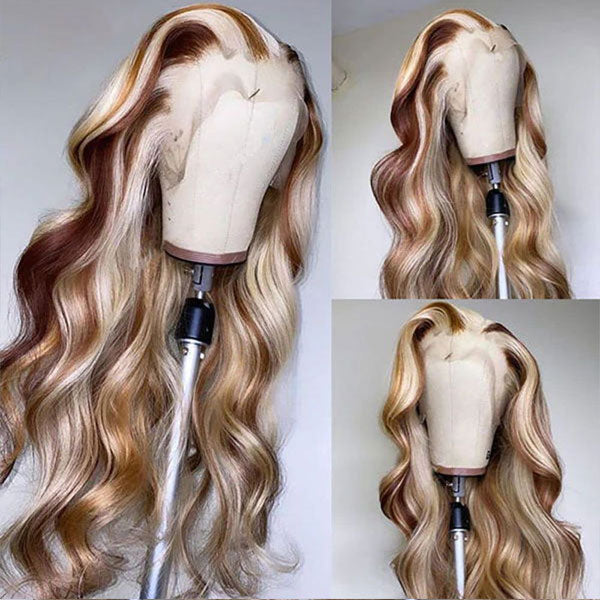 The curls are similar in color to the straight hair above, but different. This one is a mixture of P4 and 613 colors, which will be a little more low-key than the previous one. And with the body hair, this is actually a style that most people can try. In fact, it's not that dramatic, and it's a little more flattering than pure 613.
If you look too much at the 613 predominant color of hair, and you feel a little tired,check out these hairstyles with 613 highlights.
6.Highlights Blonde & Black Skunk Stripe Straight 1b/613 Colored Hair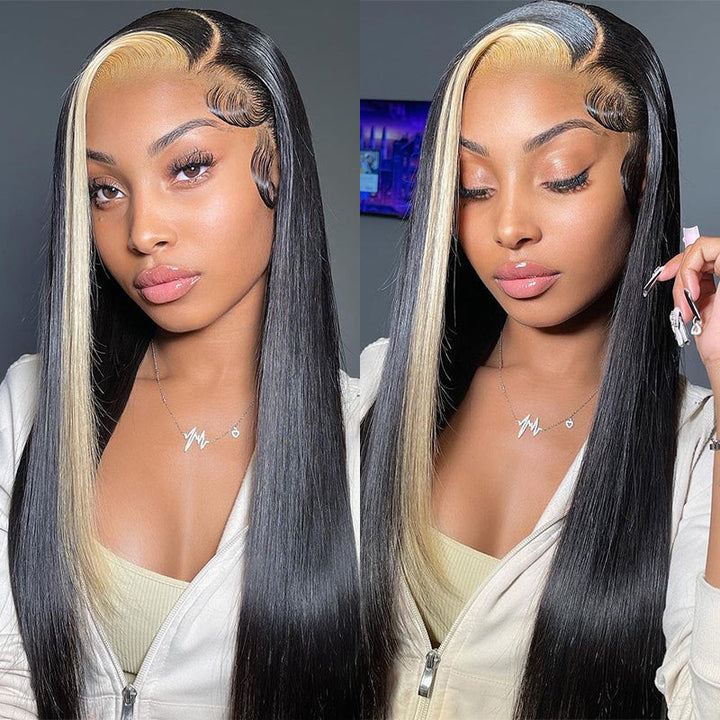 This hairstyle is mainly black, black long straight hair, choose side parting, add a hint of sexiness. An area of highlights was added to the side of the hair to make the look less dead and even more rebellious. For those who like long straight hair, but don't want to look exactly like everyone else, but also want to be a little different. A little change can really add a lot to your overall look.
7.Highlight 613 Blonde Colored Body Wave Wigs Orange Ginger Hair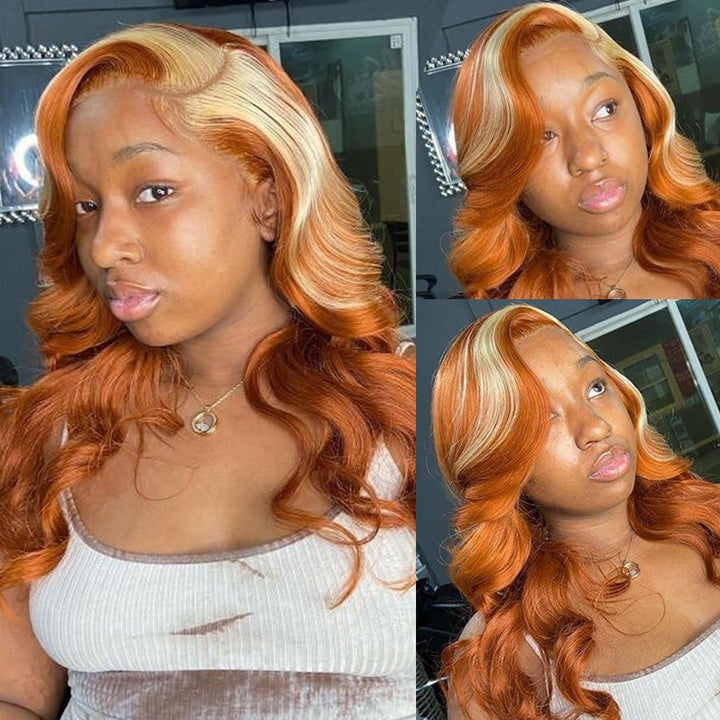 You may need a warm Orange Ginger in December. Warm colors can be very soft. In fact, this color belongs to the bright color, more suitable for exaggeration and bold people. You can add 613 highlights on both sides of your bangs. Simple embellishments will make you look more flexible, make your hair more layered, and visually improve the quality of your hair.
8.Straight Red Wine & Blonde Skunk Stripe Color Hair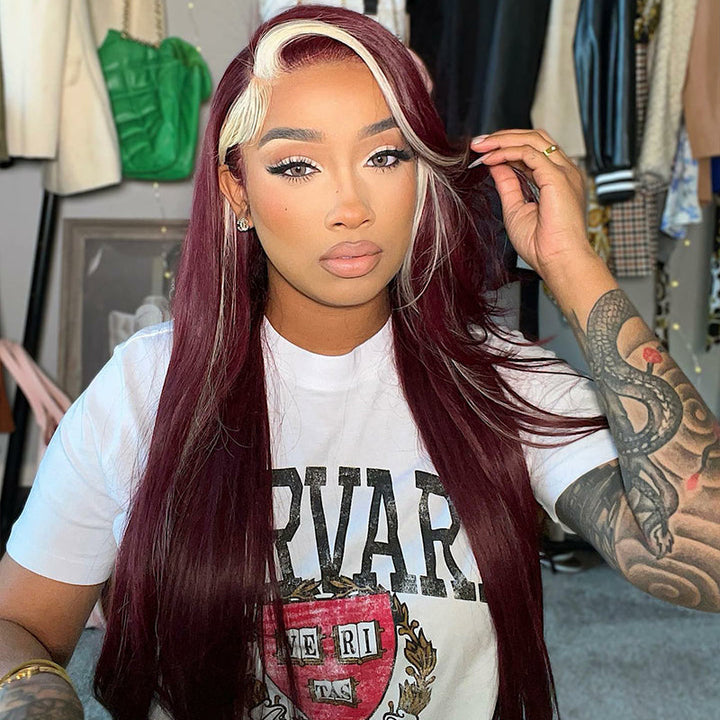 Charming Burgundy is also a good choice when paired with 613. The model in the picture chose a side part, plus Burgundy hair color, to make the whole person more sexy. Paired with white eyeshadow, 613blonde highlights complement her hair color with heavy eye makeup. Highlights make hair look smoother and more voluptuous.
Get Your Own 613 Hair
These are some recommended hair colors for 613, although not complete, but if you want to dye this hair color, these are almost enough to refer to. 613 is not a popular hair color, in fact, few people can summon up the courage to dye it, and also afraid of scalp injury. So you can consider a wig, will not hurt the scalp, can also be trimmed or dyed according to their own needs, or modeling, and it is not troublesome to wear, novice can also quickly get started. Our website has a lot of new 613 series hairstyles, the price is low, the quality is guaranteed, there is still a discount, welcome to buy.
---