Some Bangs Hairstyles for Black Women
Bangs have long been a subject of discussion when people go to get their hair styled. There are many kinds of bangs, some people fit with bangs, some people fit without bangs. The right bangs can make a person look younger and more polished, but the wrong bangs can ruin the overall look. Here are some of the things we've published about bangs for those of you thinking about getting them.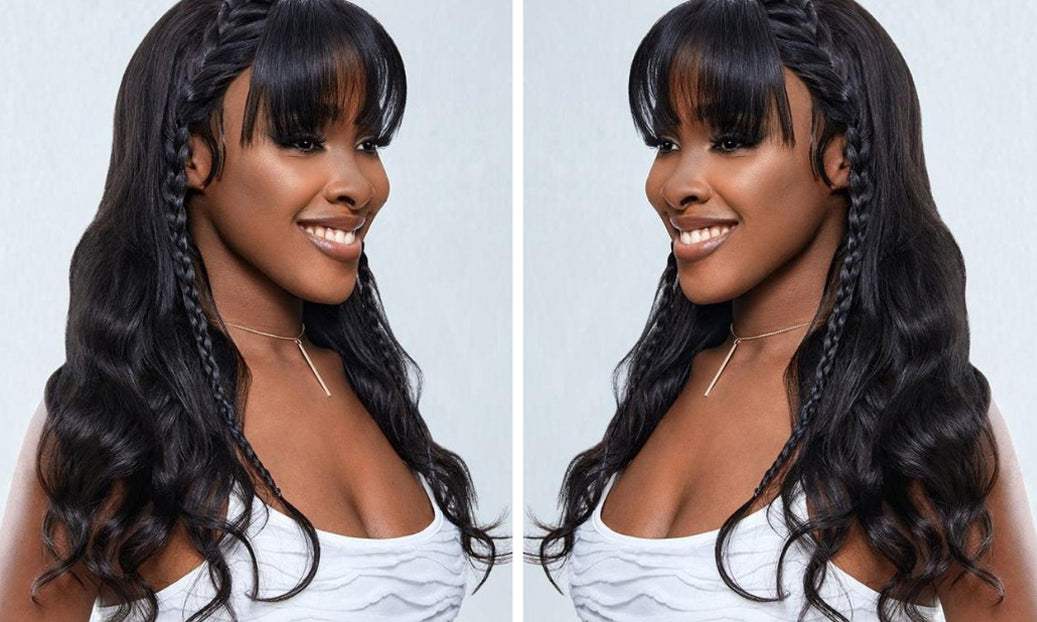 Pros and cons of bangs
Pros
One:They can make you look younger and more energetic.
Two:They can help cover up a high hairline or a wide forehead.
Three:They can make your features look more three-dimensional and accentuate your facial features.
Cons
One:You need to trim or condition your bangs regularly, which means you need to put some time and effort into them.
Two:You need to invest in styling products, otherwise your bangs will easily fry.
Three:If you have less hair, bangs may make your hair look thinner.
That's our summary of the pros and cons of bangs. If after reading this you think bangs suit you, then read on, here are some recommendations for hairstyles with bangs.
Some Bangs Hairstyles Recommendations
Body Wave Human Hair With Bangs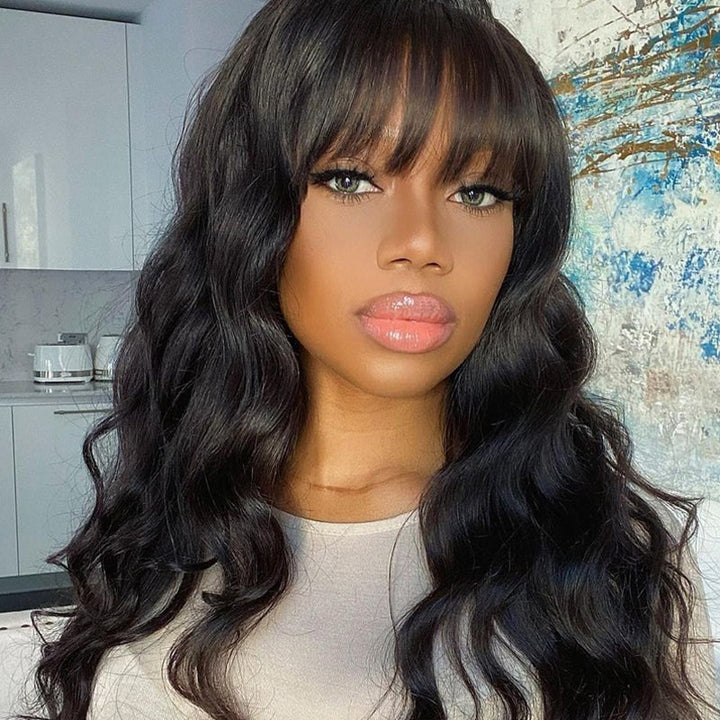 The bangs are slightly curved, which will give the whole head a fuller look, which is suitable for those with flat heads. If you have one feature that stands out, like big eyes or a sharp nose, you can definitely go for this style. It will bring out the best in your features and make a big difference to your look.
Virgin Straight Human Hair with Bangs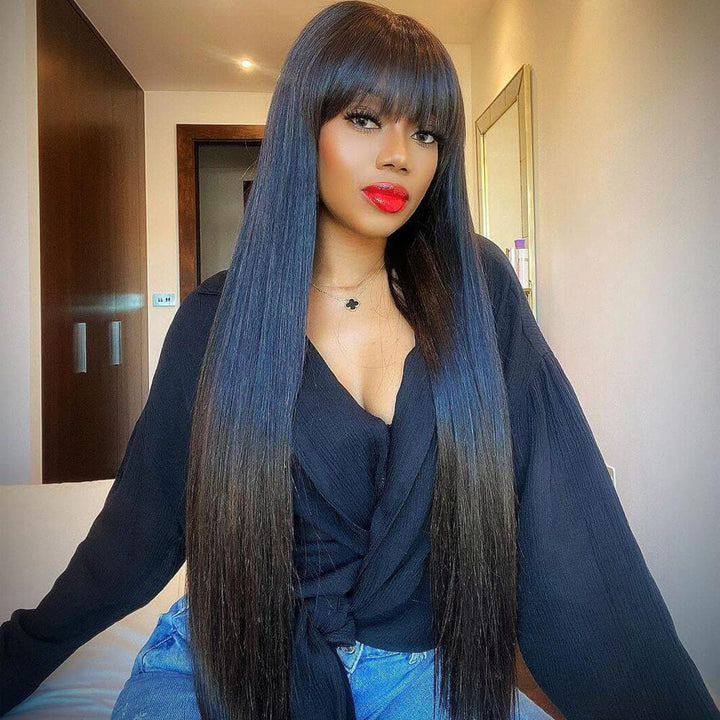 These bangs are really flat and very straight, not too long. They are suitable for short faces and will make your face more balanced visually. And it's easy to take care of because it doesn't have any curvature or design, you just need to clean it, so if you want bangs but don't want to spend too much time on them, don't hesitate!
Burgundy Silk Straight Human Hair with Bangs
This bangs leaves two long tubs of hair on the sides, which is good for wider faces and can make your face look smaller from the front. A ponytail is also fine. Don't hesitate for those with wider faces who want bangs, you can't go wrong with this one.
Ginger Color Straight Human Hair with Bangs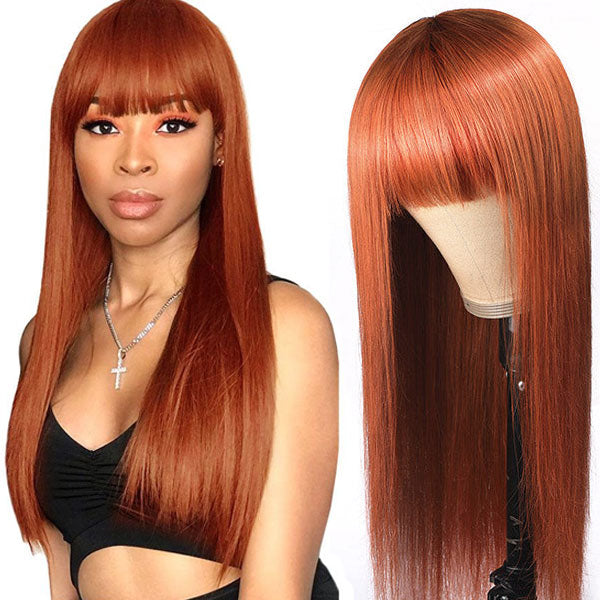 This is also straight bangs, but it's irregular. So it's easier to do it at home, you don't have to go to the barbershop. The more irregular the trim, the better. Go for it. You can also consider changing the color, such as Ginger in the picture, to make the whole person more vibrant.
Human Hair Wigs Water Wave with Bangs
With this slightly frizzy fringe, all you need is a bottle of styling spray to keep it in good condition. More suitable for less hair sisters, the whole hair is curly, hair fluffy will appear more hair volume. Simply spray some setting spray. Then use your hands to grab a few random, you will get a good hairstyle.
613 Brazilian Straight Fringe Blonde Bob With Bangs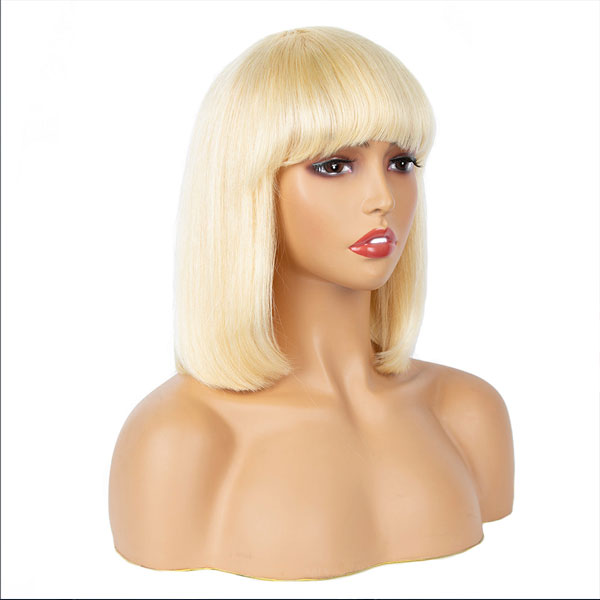 This is called an arched fringe. Short in the middle, long on both sides, the whole fringe is an arc shape. The advantage of this fringe is that it can make the whole face appear more smooth and rounded, more suitable for those sisters who look "fierce" , make you look more approachable, in the invisible to close the distance between you and the people around you.
Get Your Own Hairstyle With Bangs
That's all for this blog. Can you tell if bangs are right for you? If you think bangs look good on you, do you have a style? The above list of bangs is definitely not comprehensive, but it should be enough for your reference. I'm sure there are still a lot of people who want to cut bangs but are afraid to try it. Would you like to try a wig? Here's our wig website: www.alteruhair.com. There are lots of bangs and lots of other wigs, so take a look and you might find one you like.
---