Some Bob Lace Front Wigs Recommendations
As everyone's personality is different, what they like is naturally different. Take hair style for example, some people like long hair, some people like short hair, some people like straight hair, some people like curly hair, some people like black hair, some people like color hair.This article is good news for those who like bob haircut.Please read it carefully and you may find one that suits you.
Classification of Bob Haircut
The symmetrical bob is the bob we often see with equal length on both sides of our hair. This is the bob we see most often in our daily life. Here are a few different bob styles we have summarized:
Short Black Straight Hair Bob
Short straight black hair, this is the most common, but also the most classic, never worry about it will be out of fashion. This hairstyle will make you look younger, and the original black color makes you look more simple and generous.
Short Black Body Wave Bob Hair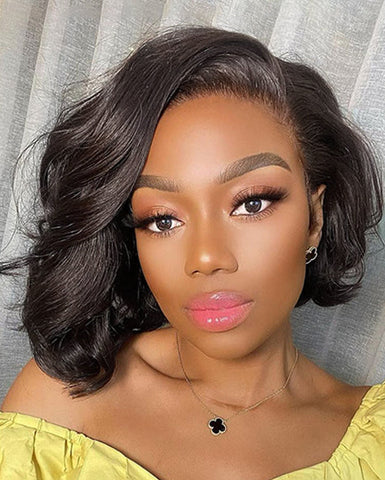 This body wave hair combines the sexy look of the body wave with the sophistication of the short hair. Combine sexy and smart in one hairstyle, with the sides of the hair up, to make your features more three-dimensional, make your face more beautiful outline. It is so nice, so why not give it a try?
Short Deep Wave Bob
This style has a slightly smaller curl and many people like it. But let's be honest, it's not for everyone, and some people may end up looking older after changing into this style, which may not achieve the desired effect. So choose carefully.
Ombre Color Straight Honey Blonde Bob Highlight Hair
This hairstyle is a mixture of many colors and looks very individual. This hair is also in vogue recently, but it's not as hard to pull off as it looks. If you're interested, give it a try and you might love it. 
Platinum Blonde Highlights Mixed Color Bob Straight Hair
The highlight collection's hairstyles are all personalized, and this one is no exception. Black main color with blonde highlights, currently few people dyed this color. And the color repetition rate is not high, you should not miss it if you are interested, maybe you are the next fashion leader.
Colored Red Straight Bob Hair
Red is passionate and unrestrained. If you are an outgoing girl, why not try this bright color? It can better highlight your personality, show your personality charm, in a crowd you can catch the eyes of all people, it sounds good.
Asymmetric Bob
An asymmetric bob is a short hair style with different lengths on both sides. This kind of bob is not very common because it is very individual and challenging and not everyone can handle it. If you think you can handle it, check out our recommendations below:
Short Brazilian Curly Bob Hair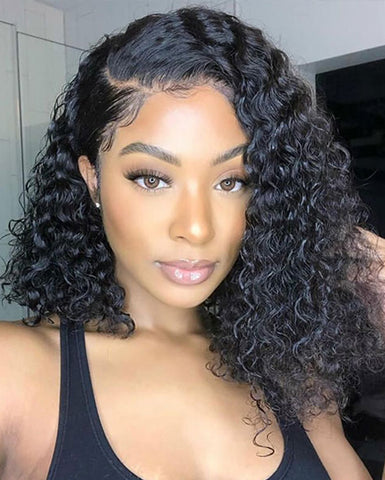 Look at the model in the picture, this hairstyle hardly need to be decorated or manicured, just take a photo randomly is extremely beautiful. You can choose the right side to be longer than the left side, you can choose the left side to be longer than the right side, it's a matter of personal preference, you can do whatever you think looks good.
613 Blonde Straight Bob Wig
What about light colors? 613 is also a hot color these days. Many celebrities and Internet celebrities have tried it with good results. This color will remind people of the princess character in the movie, noble and elegant.
Ginger Orange Bob Colored Human Hair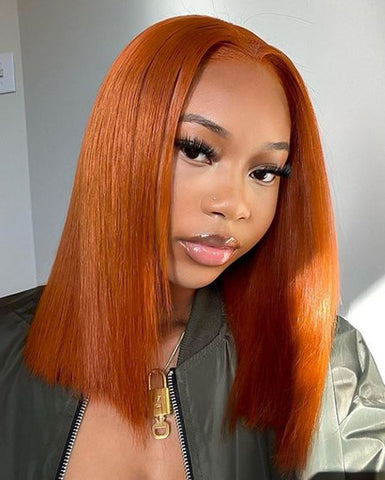 Warm hair is coming. It gives a very warm feeling, so if you have a very gentle personality, then try this. But it's a bright color, so don't try it if you don't like too much attention.
Brown Short Straight Bob Hair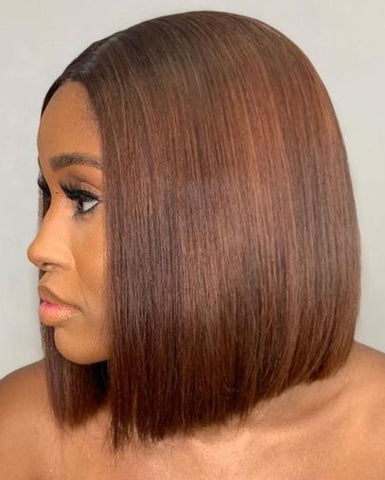 This is one of the more common colors because it doesn't pick people at all. If you are tired of looking at black and want to dye it, but you are afraid that the color is not suitable for you, then this color is definitely a good choice. It can be said to be a public color, basically no one can't handle it, how to take care of is beautiful.
Get Your Own Bob Haircut
Above are a few bob hairstyles recommended, some black and some color, just for reference. If you want to be conservative, go for more common colors like black and brown, which is not easy to go wrong. If you want to have a little personality, you can try colors or highlights, which will give you a completely different feeling. If you like an individual hair color but don't want to dye it  easily, so take a look at wigs. There are so many unique hair colors on our website, there is always one you like. And there is a campaign now, check it out.
---